Here's some great thoughts on self-pity.
AMBient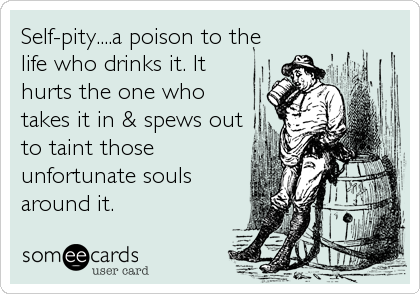 Recently, my thoughts lingered on the idea of self-pity. I already knew what it meant, of course. It meant feeling sorry for ourselves, right? Well, sort of, but there's another way of viewing self-pity, one which I found especially convicting.
First, let me clearly outline what the word 'self-pity' means:
self-pity |ˈˌsɛlf ˈpɪdi|
noun
excessive, self-absorbed unhappiness over one's own troubles.
I find this definition enlightening for several reasons. Firstly, 'self-pity' is a noun. It's not the act of feeling lonely or sorry for ourselves. It's an 'object' so to speak, a 'thing' that we can possess, cherish, hoard. The first word to describe self-pity is 'excessive,' which means that having only a little of this object is already too much, excessive. And it's self-absorbed, or narrow. It's a view we hold of ourselves and our own troubles which excludes anyone or anything else. Our thoughts and motives are absorbed…
View original post 251 more words